You might remember that I tried to recruit someone to accompany me up through the difficult terrains north of Vatnajökull? Aron Reynisson sent me a message that he could join me for a couple of days. Since the whole area was closed down for traffic by now, we had to find an alternative plan.
Aron makes a living as a professional mountain guide, and he has extensive experience from scientific expeditions to Antarctica utilizing vehicles from Arctic trucks. He is also an ambitious photographer.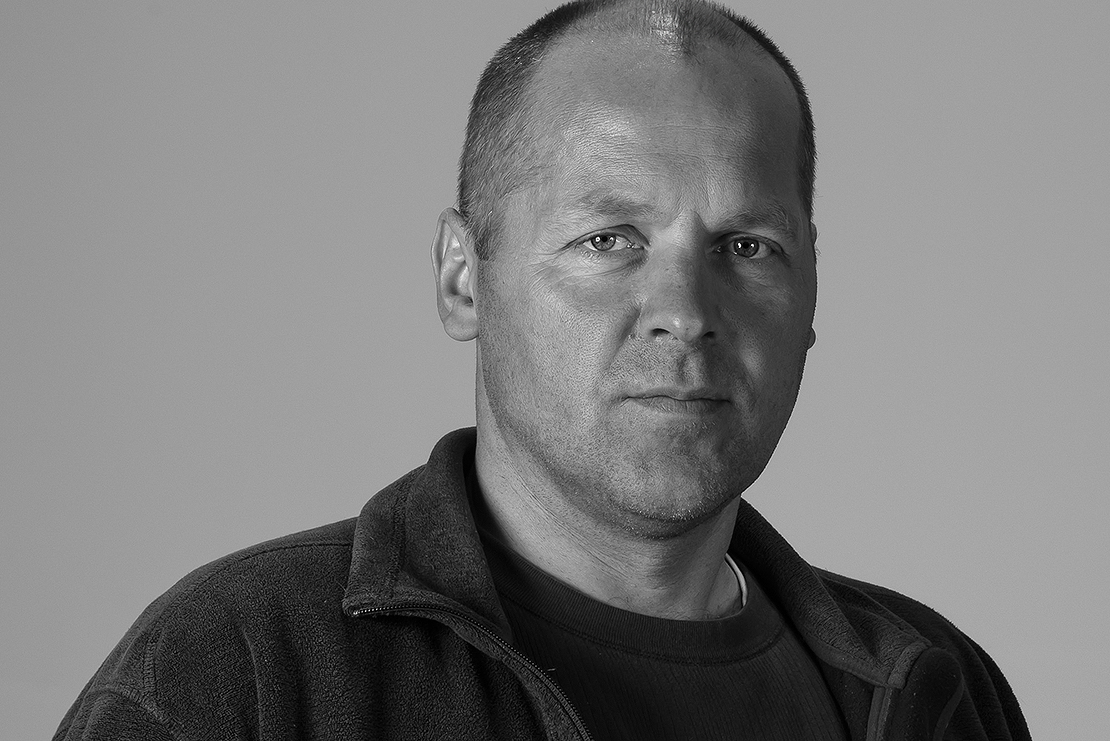 So we met in the only coffee- shop in Reykjavik that does not have Wi-Fi, to look at where we could go for the next few days.

The day after we drove up to Hraunfossar and visited my friend, Halldór Heiðar Bjarnason, at the Fljótstunga farm.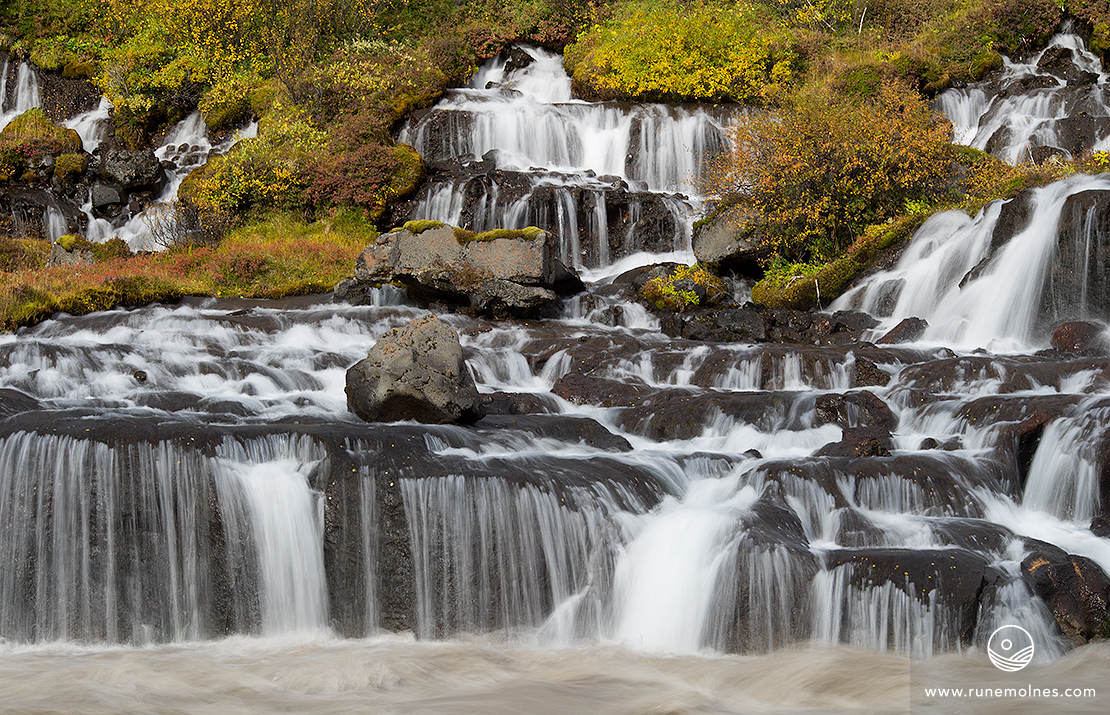 After this we headed for Icelands second largest glacier, Langjökull. Upon arrival Aron jumped out of his car with a kind of mocking expression on his face, asking rather jokingly if I wanted to have a go with my car up the glacier.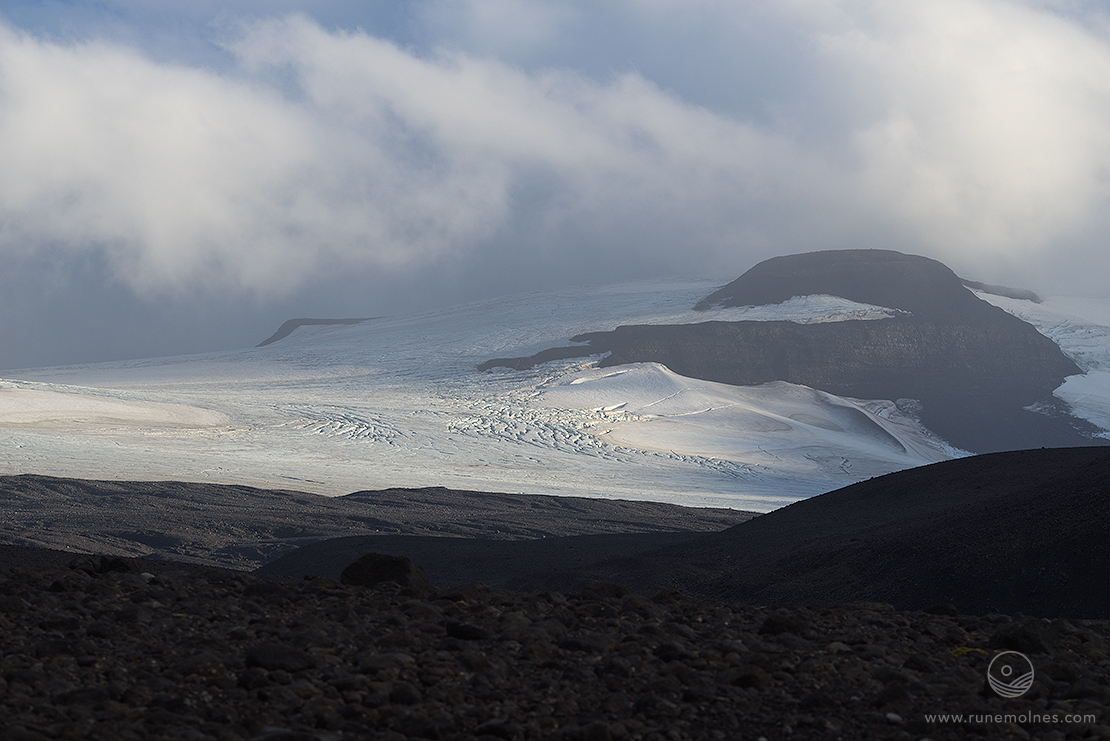 I immediately liked the idea, no surprise there..thinking I'd show this guy that there is more to my photo- mobile than meets the eye. Driving up on the glacier felt somewhat misplaced, and a bit dangerous. Navigating the glacier should be made slow, while planning ahead for a kilometer or so to make sure that you choose a passable route. I kept up with the car in front, no problem. At the same time I was having a ball - driving up glacier turned out to be extremely fun! At the same time I was focusing 100% to keep up with Aron, I did not wish to see his gloating face if I had to turn back due to lack of skill and/or big tires.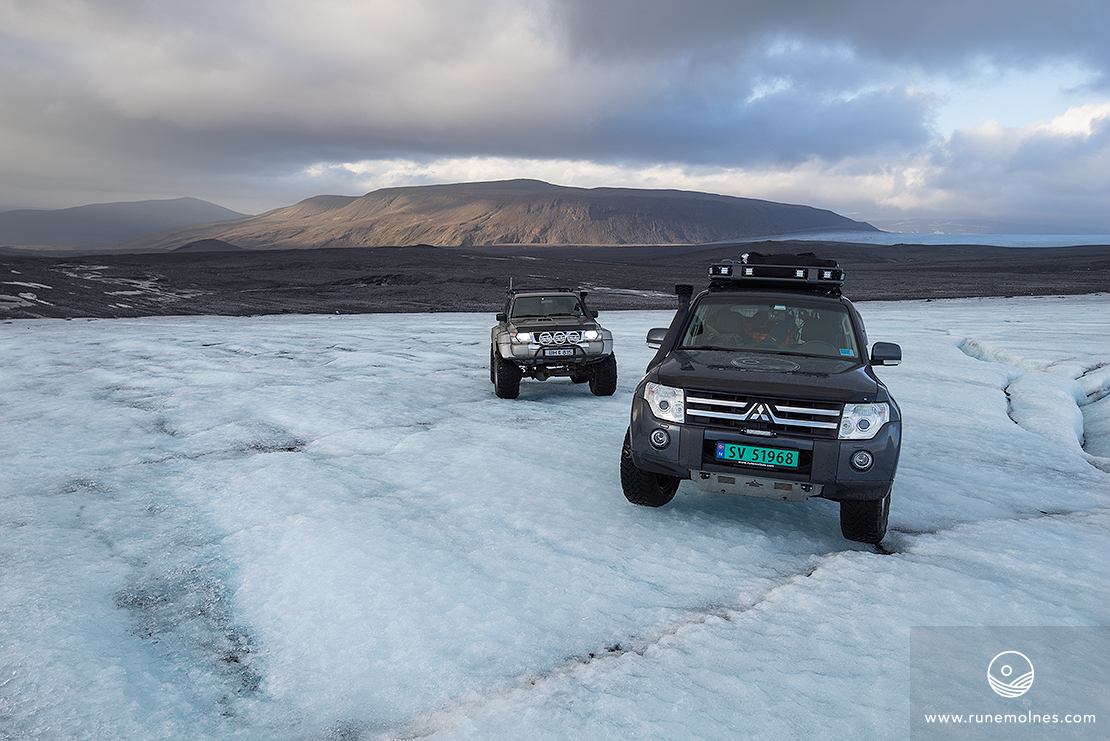 About halfway up the glacier having passed small streams of running water and cracks in the ice, we found a large gorge on the right side. Going out on the ice it was so slippery that we had to use crampons to avoid sliding back down.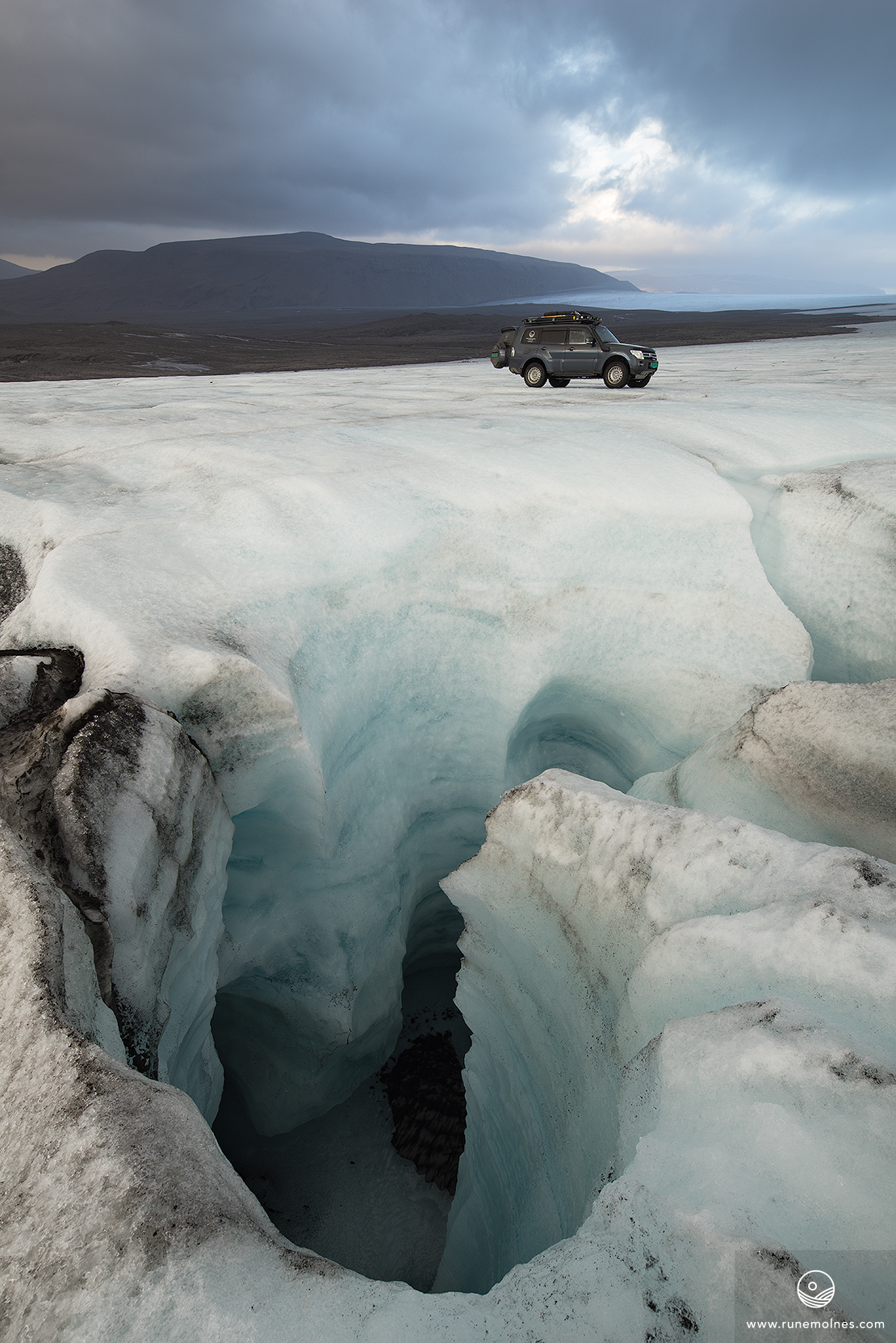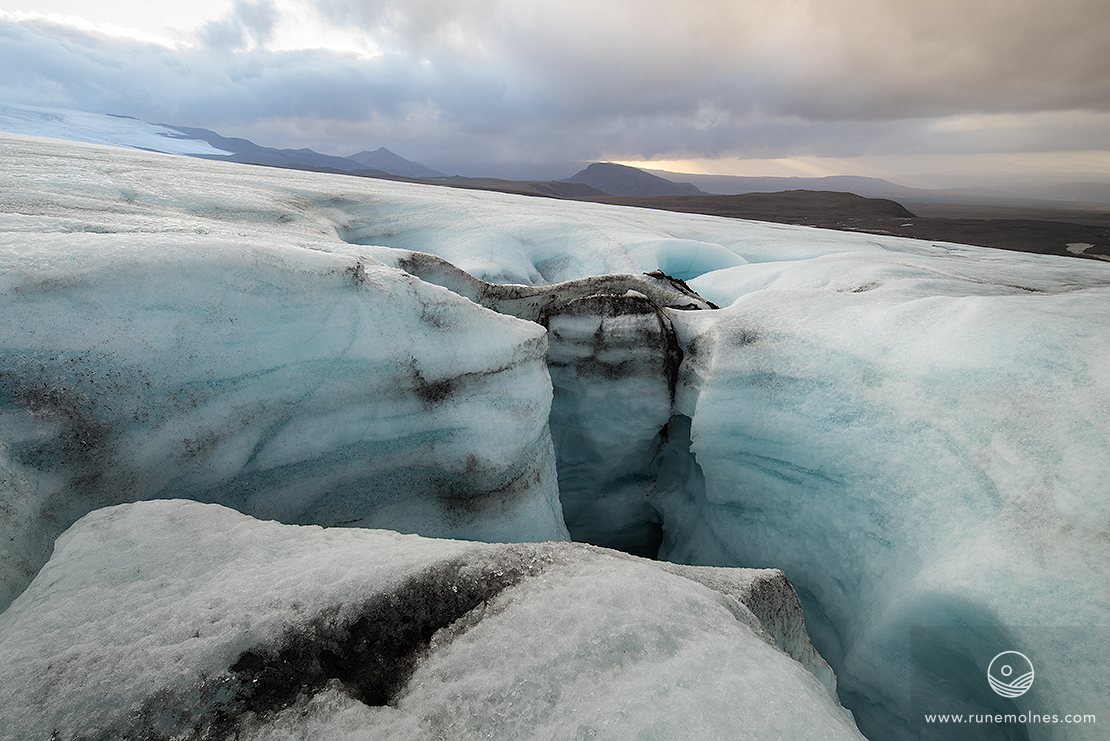 About 200m from the top Aron felt that we should turn back down since our driving surface was nearing zero friction. I, on the other hand, really wanted to try for the top, since it had been relative easy going so far. With any luck we might even get to see the mountain top sticking up from the glacier. With the car in front backing a little to find the better route, I also had to back up a little. While doing so, I put just a tad too much force on the brake and the car started sliding sideways down the glacier. (!) I could do nothing to stop it from doing so, just keep calm to avoid worsening the situation. After sliding 15 meters or so - at least it felt like 15 meters – I hit a crack in the ice and tipped sideways to the left. According to Aron I was up on two wheels for a moment. Luckily I landed back down. Perhaps owing to my extremely heavy photo- bag on the passenger side. Yet another reason to own a lot of quality glass. By now Aron had the serious face on and we headed down again, slowly, while keeping good distance. I actually have a quite scary video of this instance. Perhaps I'll post it sometime later. For those that might think driving on glaciers is unnatural, I can see your point, but this is perhaps the one form of motorized activity that puts the least strain on Icelandic nature. Great fun to, when it all ends well.

Safely down on solid ground we headed for Arons cabin situated at a lovely spot by Þingvallavatn, for some food and beers. Splendid way to end the day.
Next day we headed to Þingvellir to do some location scouting at some less frequented spots. The water in the fissures of Þingvellir is some of the clearest in the world. So much so that divers can experience fear of heights when jumping in since they can be more than 50m deep at some points. As you can see from my photograph below, visibility is good.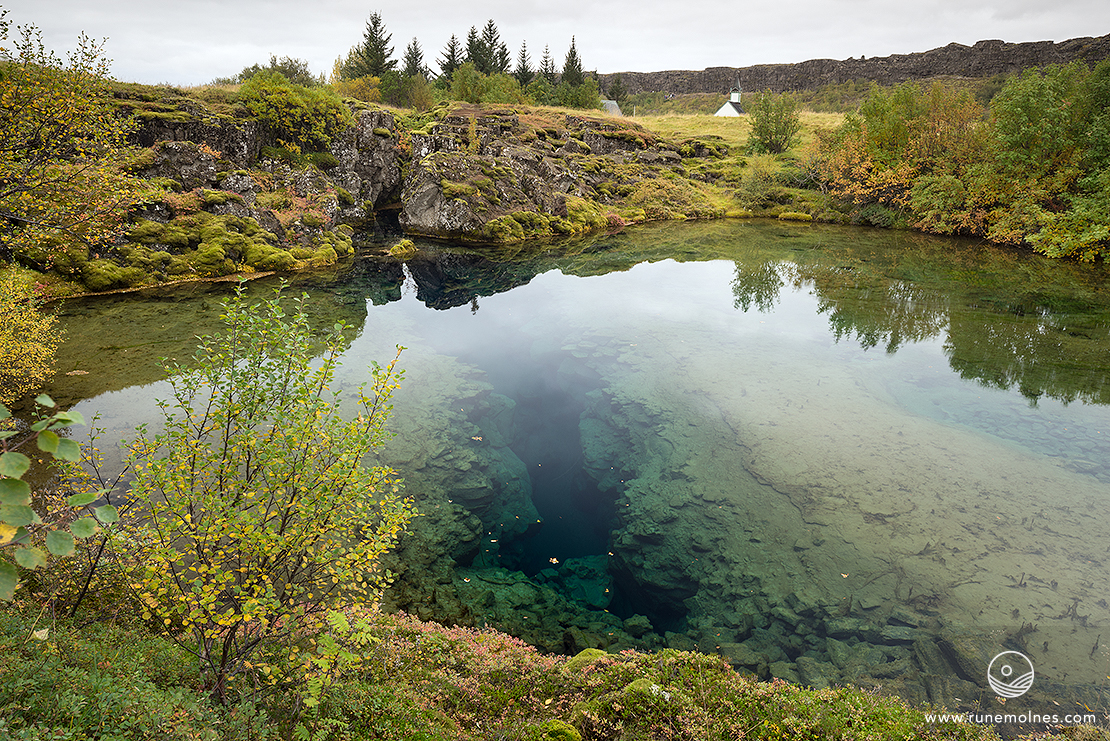 Later on we hiked up to the top of Mt. Lödimundur, to Strókur. Magnificent view up there, but no good light for photography. Good exercise though.

We then went over to Bruarfoss, one of the most picturesque waterfalls in Iceland.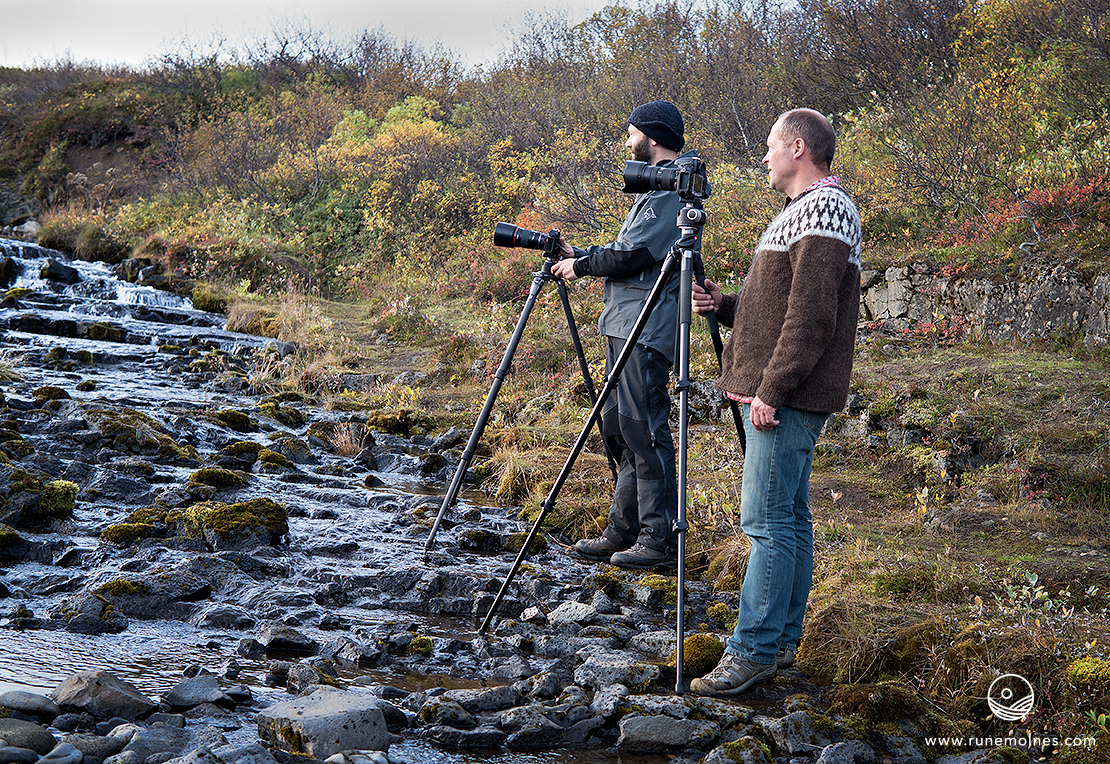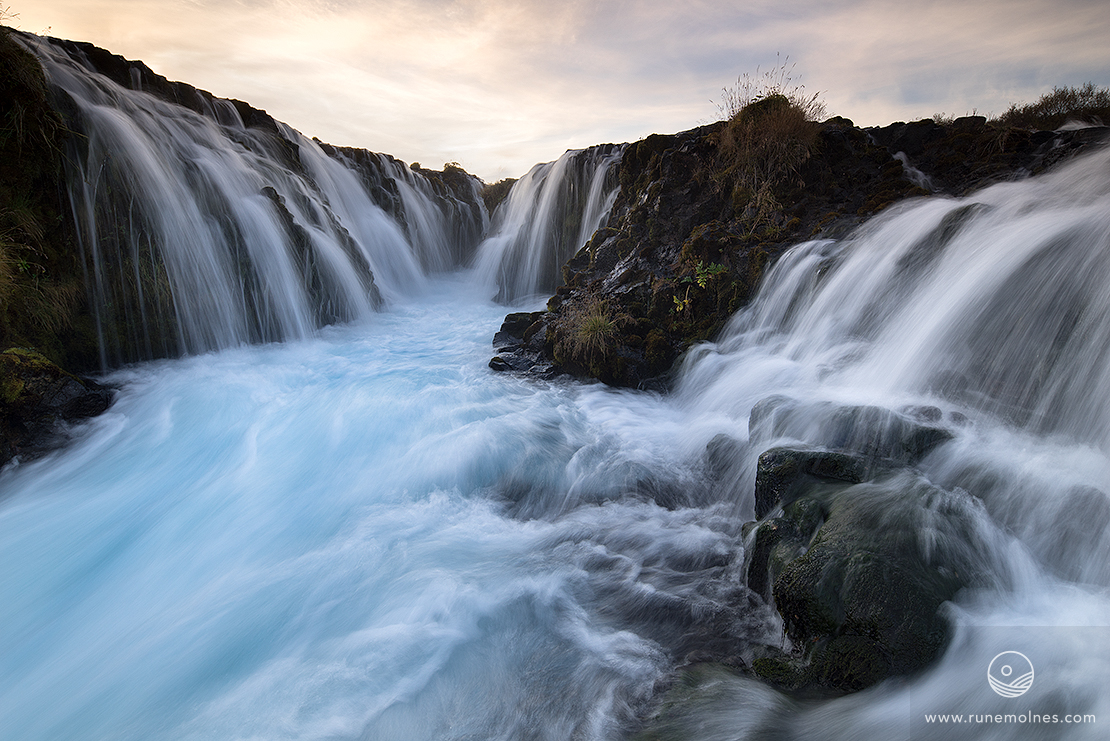 After Bruarfoss we went back to the cabin by Þingvallavatn, where we sat down for some more beers and also had a look at my plans for the rest of the trip. It was a privilege to have Arons experience at my disposal. We managed to sow my list of locations together to a feasible plan.

It turns out that Aron Reynisson and I have a surprising amount of things in common, and share a lot of values both in life and in photography. Thank you for the hospitality and generous exchange of ideas about photography. I will surely pick up those books you mentioned.
To you, dear visitor, thank you for reading my blog. Be sure to stay tuned for the next update - lots of good stuff coming up. Not to mention the mystical and very hard to find, "Eye of Raudifoss".